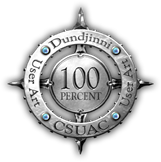 CSUAC, Copyright © 2004-2008, Cecil Solomon, all rights reserved.
The CSUAC is a 600 MB collection of Dundjinni objects and textures. It includes graphical mapping material in these categories:
· Fantasy
· Modern
· Science Fiction
The CSUAC collection is free, but it is not in the public domain. The download and usage of the CSUAC are subject to an End User License Agreement (EULA). Please download and read the EULA before downloading or using the CSUAC.
Download the EULA. Click here! (PDF file – 152 KB).
You may not further distribute the content of these websites except as noted in the EULA!
Download Links
CSUAC Complete (a 476 MB Zip file that contains everything listed below, as well as the EULA from above)
Individual CSUAC Baselines, for Windows users (these are Zip files containing multi-part .rar files)
The following files are in ".sit" format (probably only usable by Mac users)
This site is hosting only the Dundjinni version of the CSUAC. For other versions, including CC3 and Fractal Mapper 8, please visit the Vintyri site.