A license is not necessarily required to use MapForge, but having one will unlock additional features and capabilities. MapForge can be used free of charge (i.e. without a license) to create and export low-resolution (up to 50 pixels per grid square) maps, and even to use free or paid Add-Ons.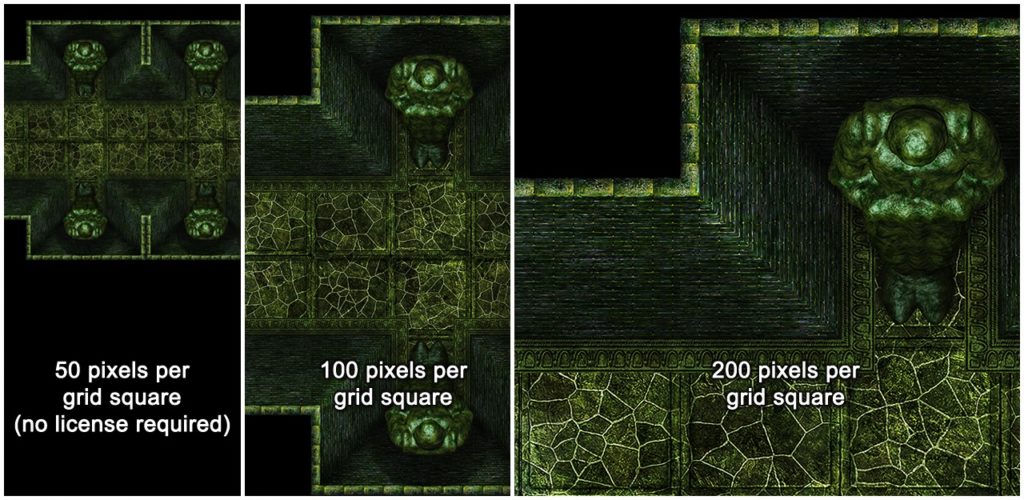 A license for MapForge currently costs $38, and can be purchased here. This is a one-time fee, not a recurring subscription. Be aware that the price is likely to go up slightly in coming years as more features are added and more free content Add-Ons are released. Please do not purchase a license until after you've tried the free version to confirm that it works OK on your particular computer. Once you've purchased a license, follow the instructions posted here to expedite fulfillment of your order.
A MapForge license allows you to use the software and registered Add-Ons on a single computer. MapForge uses a Challenge/Response licensing scheme, meaning that a license code will only work for the specific computer it is issued for.
It is also possible to use the software on a second computer, for a one-time $6 setup fee, which will also allow you to use any purchased Add-Ons on that second computer. Click here for details or to purchase.
FAQ: How are licenses handled when a customer gets a new computer?
When you get a new computer, you can permanently transfer your license over to that new computer simply by requesting to do so via email and including the new computer's Challenge Code (shown in MapForge's License panel). This license transfer is free of charge, and can be done even if the prior computer has already died a horrible death. The transfer will include not only the license, but also all registered Add-Ons. Prior to effecting the transfer, the old license and Add-On registrations will be permanently canceled/revoked, so do not attempt to swap MapForge back and forth between two computers; it will not work.
FAQ: Can paid Add-Ons be used without a license?
Yes, they can. Some people like to purchase one or two Add-Ons before purchasing a MapForge license, to see the quality of the graphics before deciding whether or not they want to purchase the software. However, paying for the content makes more sense if you'll be using it in high-resolution.
FAQ: How are licenses and registration codes issued?
License codes and Add-On registration codes are emailed to you after the purchase is made, once you've followed these instructions. Please be aware that there is no automated system to process orders, it is done manually/personally. So if, for example, your order comes in in the middle of the night, I will deal with it first thing in the morning.